The Blackfly Voodoo Loop pays homage to Canadian Armed Forces based in our area.
The full loop in approximately 80 km and if you want to get a short ride in before heading home or back to the cottage this could be the one for you!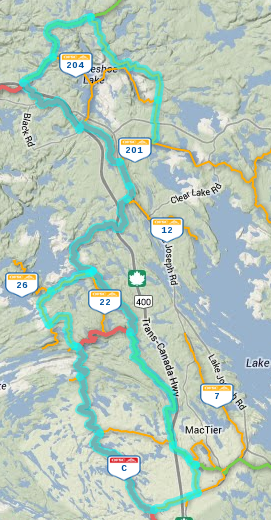 After parking at the MacTier Parking Centre (Muskoka Road, behind the Public School), you will head west to Six Star Trail 9 (behind Medical Centre) to begin a very nice loop that will bring you north along TOP Trail C102D. This trail has varied terrain, some logging roads and a few bridges. At the junction of TOP C and TOP Trail C102D, keep heading north where you will continue until you reach the Info Centre.  Follow TOP Trail C103D east and then head south on to South Seguin Trail 201.  Follow South Seguin Trail 201 until you meet up with TOP C and continue south to Six Star Trail 22.  Head west and follow trail to Six Star Trail 19 where you will meet up again with TOP C.  Follow TOP C south to Six Star Trail 14, and head east.  Follow Six Star Trail 14 to Six Star Trail 8 and head north to TOP Trail C102D. Follow C102D back to Six Star Trail 9 and back to the MacTier Parking Centre.